Saturday March 24, 2018
Presented By: The Freeland Center Performing Arts Council
Gene Watson
Event Time: 7:30 PM Doors Open: 6:30 PM
The Freeland Center Arts Council Presents
GENE WATSON
The Freeland Center - Bristow, OK
All tickets are Reserved.
This is an all-ages event.
Doors open at 6:30PM.
One of the most masterful voices in Country Music today, GENE WATSON still sings
in the same key as 30 years ago and continues to prove why he is rightly referred to
as "The Singer's Singer". His powerful voice and multi-octave range allows him to sing
some of the most challenging songs with an ease that comes from pure, natural talent
as well as from his many years performing onstage.
Ticket
Price
Advance Cash
Base $25
Total $25
Advance Credit
Base $25
Service Charges $1.25
Total $26.25
*TICKET PRICES ARE SUBJECT TO INCREASE PRIOR TO SHOW DATE*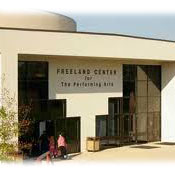 The Freeland Center for the Performing Arts